50% off in the 1st month
AUD
3.73
BGN
4.38
BRL
11.92
CAD
3.26
CHF
2.14
CNY
17.52
CZK
54.90
DKK
16.71
EUR
2.24
GBP
1.92
HKD
18.81
HRK
16.88
HUF
860.38
IDR
36,909.38
ILS
9.21
INR
199.30
ISK
321.89
JPY
352.04
KRW
3,194.11
MXN
42.16
MYR
11.23
NOK
25.59
NZD
4.05
PHP
136.27
PLN
10.40
RON
11.12
RUB
262.53
SEK
26.61
SGD
3.27
THB
85.23
TRY
64.56
USD
2.40
ZAR
45.40
date
20.43
/ month
AUD
8.31
BGN
9.76
BRL
26.55
CAD
7.27
CHF
4.77
CNY
39.04
CZK
122.29
DKK
37.22
EUR
4.99
GBP
4.27
HKD
41.91
HRK
37.61
HUF
1,916.66
IDR
82,222.23
ILS
20.52
INR
443.98
ISK
717.06
JPY
784.23
KRW
7,115.44
MXN
93.91
MYR
25.01
NOK
57.01
NZD
9.03
PHP
303.58
PLN
23.17
RON
24.77
RUB
584.83
SEK
59.28
SGD
7.28
THB
189.86
TRY
143.81
USD
5.35
ZAR
101.14
date
45.52
/ month
Individual configuration
Create your own configuration and customize options flexibly
Secure payment




Our locations
In 17 locations worldwide, we offer unique accessibility with the lowest pings. Further locations are constantly being developed and guarantee breathtaking gaming fun with the lowest latency in every game.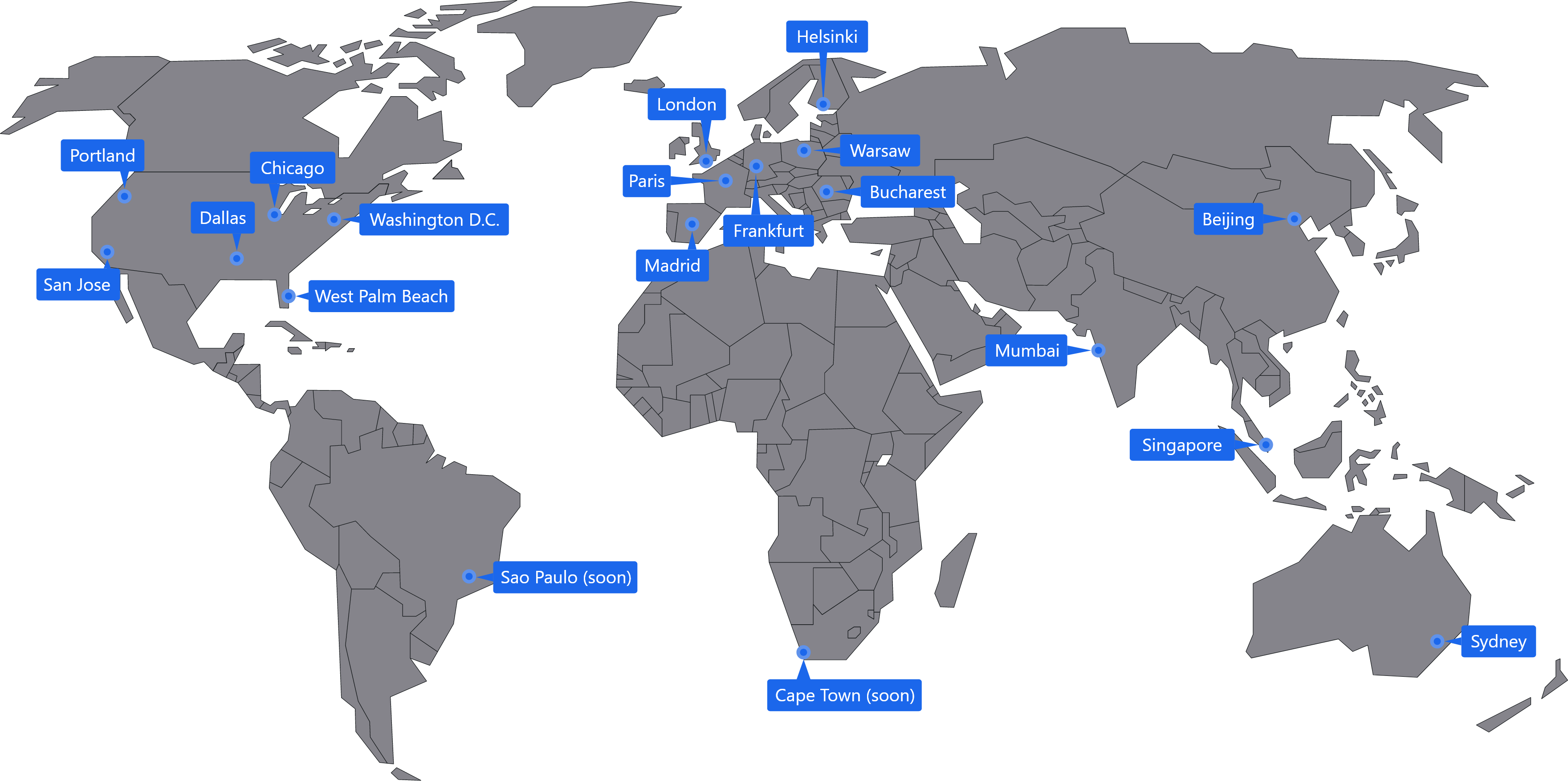 Frequently asked questions
Yes, mods can be easily uploaded to your server using an FTP programme.
Buying a Factorio server often comes at a high cost. In comparison, if you rent a **Factorio server, you are not burdened by a one-time high payment. As a rule, you pay a low price once a month.
With us you also have the possibility to adjust the tariff for your server, the mods connected to it and accordingly the **price at any time. the price at any time. So you can try out different servers and modpacks and optionally remove them remove them again without spending a large sum of money.
With 4Netplayers, this is completely up to you. Regardless of whether you choose the Starter, Professional or Premium offer, you can determine the term of your contract yourself. Starting at one month up to a term of 12 months, it's up to you how long you want it to last. it is up to you how long you want to rent a server with us as your host. The longer the term of your contract is, the cheaper it will be, by the way, and so you will save 10% of the price for a 12-month contract compared to one month you save 10 % of the price.
Absolutely. With 4Netplayers you don't have to worry about security and protection. For one thing, you have free to choose the duration of your contract and are not obliged to make endless monthly payments. On the other hand your server itself is safe, because we protect it with DDoS from bad traffic.
After logging in, click on "Gameserver" on the left and then on "Create configuration". Select your desired mods, enter a password - and your server is ready to go!
Discover the fascinating world of automation in Factorio
Immerse yourself in the world of Factorio, a challenging and addictive real-time strategy game that tests your skills as a builder and planner. In this game, you start with the simplest tools and materials to build a factory that becomes increasingly complex and sophisticated. You'll gradually build a vast network of conveyors, machines and robots to mine, process and transform resources into valuable products. The possibilities are almost endless, so you can always come up with creative solutions and clever automation ideas to make your factory more efficient and productive.
Master the challenges and protect your factory on your Factorio server
But be warned: the environment in Factorio is alive and dangerous. You will encounter alien creatures that are not thrilled with your intrusion into their home. Build defences to protect your factory from enemy attacks and gain control over the resources of the environment. You can also team up with friends and build bigger and more impressive factories together in co-operative multiplayer mode. With countless modifications and add-ons created by the dedicated community, you can always customise and expand the Factorio game experience to realise your ultimate factory vision.
Explore innovative technologies and optimise your production
In Factorio, you will have the opportunity to research a variety of technologies and continuously optimise your production lines. Use the research tree to unlock new machines, transport systems and defence options that will give your factory empire more and more possibilities. With each step, you will develop better and more efficient solutions to the ever-growing challenges. Lose yourself in the fascination of optimisation and enjoy hours of fun as you trim your factory to the highest level of efficiency.
Design your own industrial landscape and share your creations
Factorio not only offers you countless hours of exploration and experimentation, but also the opportunity to create your own unique industrial landscape. With the easy-to-use map editor feature, you can design and customise your own world in which to build your factory. Share your creations with the worldwide Factorio community to challenge other players, or download the community's best maps and modifications to keep discovering new scenarios. Let your imagination run wild and become part of an ever-growing, dedicated community of players.
Factorio - The ultimate strategy game for creative minds and tinkerers
Factorio combines exciting gameplay, innovative technologies and limitless possibilities in a captivating real-time strategy game that guarantees hours of fun and a profound gaming experience. With its combination of strategic thinking, creative solutions and the ability to create and share your own worlds, Factorio is a must-have for anyone who wants to prove their skills as a builder and planner. Dive into the world of automation and optimisation and experience a unique, challenging game that will keep you hooked.