50% off in the 1st month
AUD
8.28
BGN
9.76
BRL
27.54
CAD
7.52
CHF
4.89
CNY
38.19
CZK
117.07
DKK
37.18
EUR
4.99
GBP
4.39
HKD
43.37
HRK
37.61
HUF
1,865.96
IDR
81,155.36
ILS
20.09
INR
451.84
ISK
749.00
JPY
743.11
KRW
7,313.79
MXN
98.91
MYR
24.61
NOK
59.02
NZD
8.82
PHP
305.82
PLN
22.91
RON
24.60
RUB
584.83
SEK
56.59
SGD
7.33
THB
186.78
TRY
107.70
USD
5.53
ZAR
100.48
date
25.21
/ month
AUD
18.39
BGN
21.69
BRL
61.21
CAD
16.71
CHF
10.87
CNY
84.88
CZK
260.17
DKK
82.62
EUR
11.09
GBP
9.76
HKD
96.38
HRK
83.58
HUF
4,146.99
IDR
180,363.32
ILS
44.66
INR
1,004.19
ISK
1,664.61
JPY
1,651.52
KRW
16,254.50
MXN
219.81
MYR
54.69
NOK
131.17
NZD
19.59
PHP
679.66
PLN
50.91
RON
54.67
RUB
1,299.76
SEK
125.77
SGD
16.30
THB
415.10
TRY
239.35
USD
12.28
ZAR
223.30
date
56.03
/ month
Individual configuration
Create your own configuration and flexibly adjust options
Secure payment




Our locations
In 17 locations worldwide, we offer unique accessibility with the lowest pings. Further locations are constantly being developed and guarantee breathtaking gaming fun with the lowest latency in every game.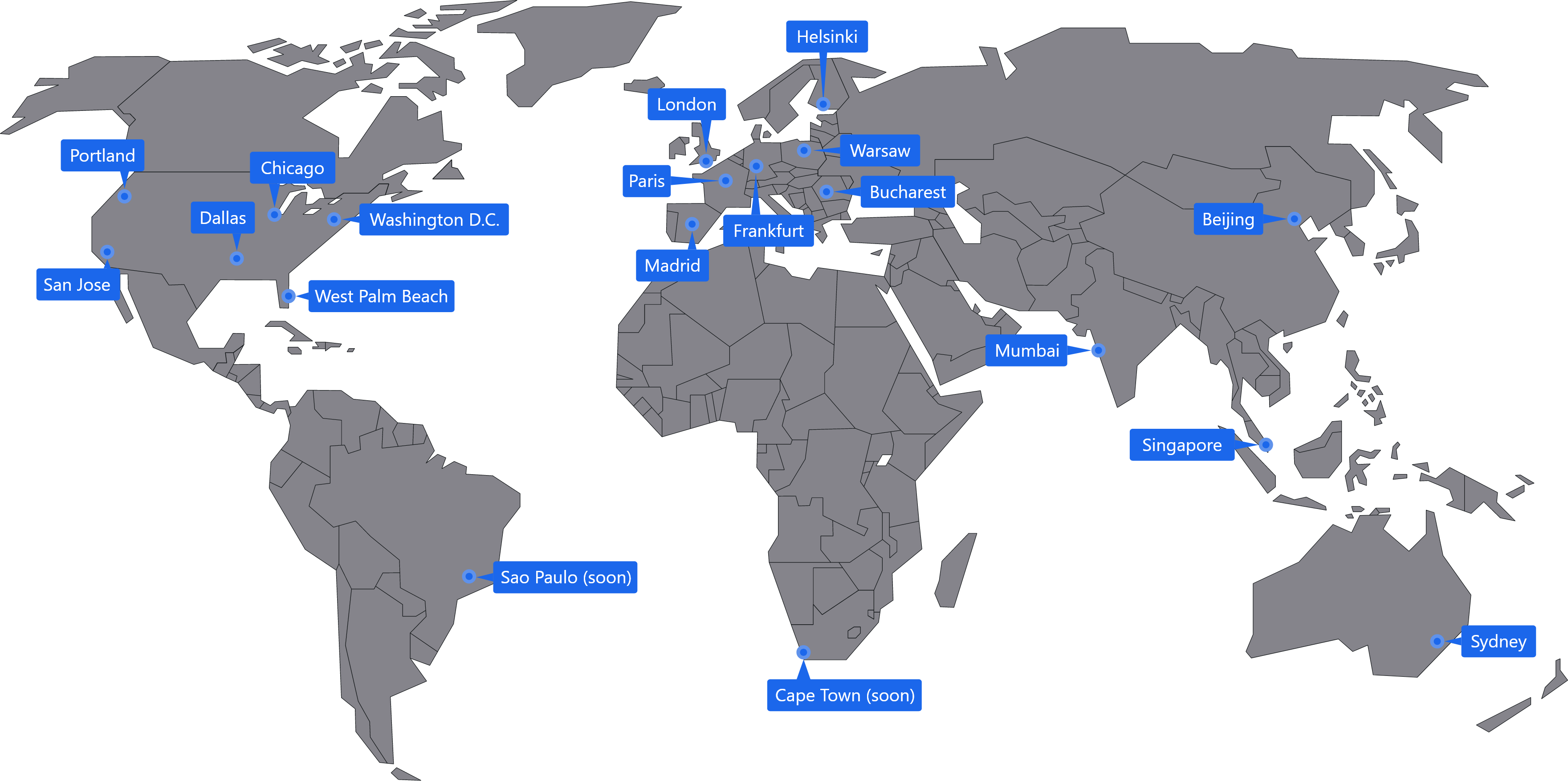 Frequently asked questions
All you need is the WorkshopID of the mod you want to use. You enter this on our page, the server will then download it for you.
Yes, you can activate cheats in the server's configuration file.
Buying an Unturned server is often very expensive. In comparison, if you rent an Unturned server, you are not burdened by a one-time high payment. As a rule, you pay a low price once a month.
With us, you also have the possibility to adjust the tariff for your server, the associated mods and accordingly the price at any time. the price at any time. So you can try out different servers and modpacks and optionally remove them remove them again without spending a large sum of money.
With 4Netplayers, this is completely up to you. Regardless of whether you choose the Starter, Professional or Premium offer, you can determine the term of your contract yourself. Starting at one month up to a term of 12 months, it's up to you how long you want it to last. it is up to you how long you want to rent a server with us as your host. The longer the term of your contract is, the cheaper it will be, by the way, and so you will save 10% of the price for a 12-month contract compared to one month you save 10 % of the price.
Absolutely. With 4Netplayers you don't have to worry about security and protection. For one thing, you have free to choose the duration of your contract and are not obliged to make endless monthly payments. On the other hand your server itself is safe, because we protect it with DDoS from bad traffic.
After logging in, click on "Gameserver" on the left and then on "Create configuration". Select your desired mods, enter a password - and your server is ready to go!
Explore the world of Unturned - Survival has never been so exciting
Immerse yourself in the thrilling survival adventure of Unturned! In this open world, countless challenges and dangers await you. You must use your skills and intelligence to survive in a post-apocalyptic landscape full of zombies and other survivors. Search for valuable resources, build shelters and create weapons to fight off your enemies. In Unturned, you decide whether you want to play alone or with friends in cooperative multiplayer modes. Experience exciting battles, tactical decisions and a captivating atmosphere - take on the ultimate challenge and become an undisputed survival artist!
Unleash your creativity - Design your own apocalyptic world on your Unturned game server.
Unturned not only offers you a gripping survival adventure, but also the possibility to create your own post-apocalyptic world. With the integrated map editor, you can design your own maps that can be played and rated by the community. Place buildings, landscapes, dangerous zombie hordes and useful resources according to your taste. Share your creations online and compete against the works of other players. Become a master of the apocalypse and show the world what challenges and adventures you have in store for other survivors!
Team up or fight alone - immerse yourself in dynamic multiplayer experiences
In Unturned, you have a variety of multiplayer options at your disposal, which provide even more excitement and fun. Team up with friends and form a powerful group to fight the zombie apocalypse together. Share resources, build bases together and develop strategic plans to maximise your chances of survival. But beware, other player groups are also on the lookout for the best spots and resources - be prepared to fight human opponents as well to claim your place in the post-apocalyptic world. The choice is yours: team up or fight alone to become the ultimate survivor in Unturned!
Individualise your character - Discover countless customisation options
In Unturned, you can design and customise your character according to your personal preferences. Use the many customisation options to give your survivor a unique look. Choose from different hairstyles, facial features, clothing and accessories to express your personal style in the post-apocalyptic world. Additionally, as you progress through the game, you can upgrade your skills and unlock special talents that further refine your survival strategy. Whether you're a sniper from afar or a melee fighter facing the zombies, Unturned lets you customise your character to your preferred play style and write your own story!
Unturned - A captivating survival adventure with limitless possibilities
Unturned combines the best elements of the survival genre in an exciting and challenging gaming experience. With its open game world, numerous customisation options and diverse multiplayer options, the game offers hours of fun for everyone. Thanks to the integrated map editor and the possibility to design your own post-apocalyptic worlds, there are no limits to your creativity. Whether alone or with friends, whether as a skilled survival artist or a merciless fighter - Unturned offers a captivating and varied experience for every type of player in an unforgettable world full of danger and adventure.