50% off in the 1st month
AUD
8.31
BGN
9.76
BRL
26.55
CAD
7.27
CHF
4.77
CNY
39.04
CZK
122.29
DKK
37.22
EUR
4.99
GBP
4.27
HKD
41.91
HRK
37.61
HUF
1,916.66
IDR
82,222.23
ILS
20.52
INR
443.98
ISK
717.06
JPY
784.23
KRW
7,115.44
MXN
93.91
MYR
25.01
NOK
57.01
NZD
9.03
PHP
303.58
PLN
23.17
RON
24.77
RUB
584.83
SEK
59.28
SGD
7.28
THB
189.86
TRY
143.81
USD
5.35
ZAR
101.14
date
45.52
/ month
AUD
18.47
BGN
21.69
BRL
59.00
CAD
16.15
CHF
10.60
CNY
86.76
CZK
271.79
DKK
82.71
EUR
11.09
GBP
9.50
HKD
93.15
HRK
83.58
HUF
4,259.67
IDR
182,734.37
ILS
45.60
INR
986.72
ISK
1,593.63
JPY
1,742.90
KRW
15,813.67
MXN
208.71
MYR
55.59
NOK
126.69
NZD
20.07
PHP
674.68
PLN
51.50
RON
55.05
RUB
1,299.76
SEK
131.74
SGD
16.18
THB
421.96
TRY
319.61
USD
11.89
ZAR
224.77
date
101.16
/ month
Individual configuration
Create your own configuration and flexibly adjust options
Secure payment




Our locations
In 17 locations worldwide, we offer unique accessibility with the lowest pings. Further locations are constantly being developed and guarantee breathtaking gaming fun with the lowest latency in every game.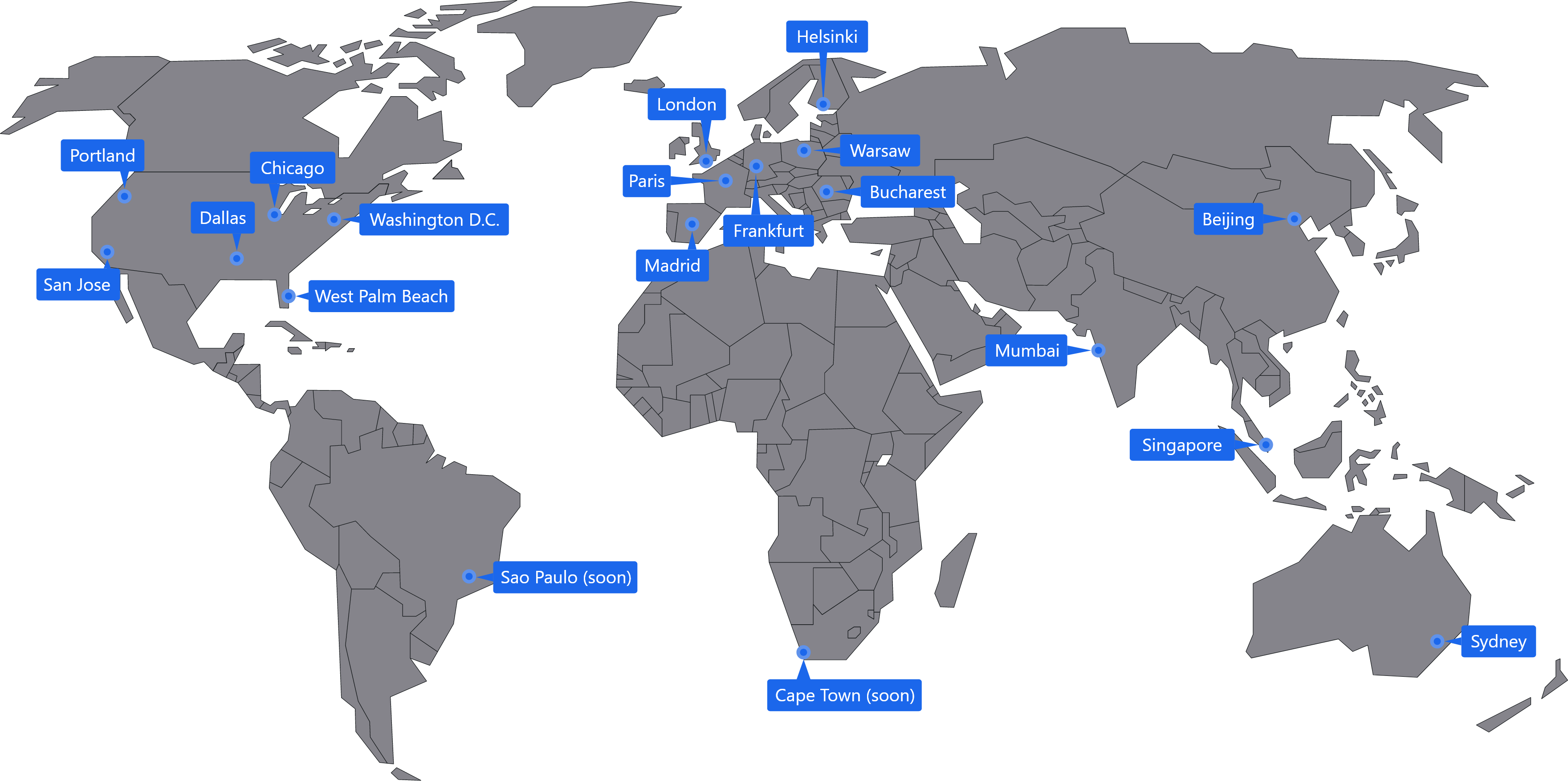 Frequently asked questions
After logging in, click on "Gameserver" on the left and then on "Create configuration". Select your desired mods, enter a password - and your server is ready to go!
With 20 years of experience in server hosting, we know what gamers value. Fair prices, reliable hardware and free free additional features such as 3D world rendering. And if there is ever a problem, our competent competent support will be happy to help you!
Discover the dark side of the Force in V Rising
Tauche ein in die faszinierende Welt von "V Rising", einem actiongeladenen Multiplayer-Online-Rollenspiel, in dem du die Rolle eines wiedererweckten Vampirfürsten übernimmst. Kämpfe in einer düsteren, offenen Spielwelt um die Vorherrschaft und stelle deine mächtigen Fähigkeiten unter Beweis. Nutze deine Unsterblichkeit, um dein Schloss zu neuem Glanz zu führen und eine unbesiegbare Armee von Untoten und anderen mystischen Kreaturen zu erschaffen. Beute menschliche Siedlungen aus, um deinen unstillbaren Blutdurst zu stillen und trete gegen andere Spieler in erbitterten Schlachten an, um die ultimative Macht in der Welt der Dunkelheit zu erlangen. Bist du bereit, dein Schicksal als Vampirfürst in "V Rising" zu meistern?
Master the bloody craft: battles, skills and strategy
In "V Rising" erwarten dich spannende Echtzeitkämpfe und ein tiefgründiges Fähigkeiten-System, das dir ermöglicht, deinen Vampirfürsten nach deinem Geschmack zu gestalten. Entscheide, ob du dich auf brutale Nahkampfangriffe, verheerende Fernkampfmagie oder hinterhältige Schattenkünste spezialisieren möchtest. Erkunde die geheimnisvollen Ruinen und düsteren Dungeons, um mächtige Artefakte und Waffen zu finden, die deinem Charakter einzigartige Fähigkeiten verleihen. Verbünde dich mit anderen Spielern, um gefährliche Bossgegner gemeinsam zu bezwingen und wertvolle Belohnungen abzustauben. Stelle deine strategischen Fähigkeiten in epischen PvP-Schlachten unter Beweis und entwickle ausgeklügelte Taktiken, um die Schwächen deiner Gegner auszunutzen und die Oberhand zu gewinnen. In "V Rising" liegt es an dir, die perfekte Kombination aus Macht und Raffinesse zu finden, um deinen Vampirfürsten zur Legende werden zu lassen.
Build your dark empire: castle management and resources
In "V Rising" ist es an dir, dein verfallenes Schloss wieder aufzubauen und zu einer Festung der Dunkelheit zu machen. Sammle Ressourcen, baue neue Gebäude und verbessere bestehende Strukturen, um deine Machtbasis auszudehnen. Rekrutiere und befehlige eine Vielzahl von Untoten und anderen Kreaturen, die dir bei der Verteidigung deiner Ländereien und der Eroberung neuer Gebiete behilflich sind. Plane weise, welche Ressourcen und Einheiten du einsetzt, um dein Reich effektiv zu verwalten und deine Feinde in Schach zu halten. Aber sei auf der Hut vor dem Tageslicht, denn als Vampirfürst kann die Sonne deinen Untergang bedeuten. Nutze die Nacht, um deine Feinde zu überfallen und ihre Verteidigungen zu durchbrechen. In "V Rising" liegt das Schicksal deines düsteren Imperiums in deinen Händen - wie weit wirst du gehen, um deine Herrschaft zu sichern?
Explore the world of shadows: Immersive storytelling and quests
Die Welt von "V Rising" ist reich an Geheimnissen, Legenden und finsteren Mysterien, die nur darauf warten, von dir erkundet zu werden. Tauche ein in ein fesselndes Storytelling, das dich tief in die Vergangenheit und die Mythen der Vampire führt. Erfülle eine Vielzahl von Quests, die dich auf unerwartete Abenteuer mit spannenden Wendungen und Herausforderungen führen. Treffe interessante Charaktere, die ihre eigenen Geschichten und Motive haben, und entscheide, wie du dich in diesem düsteren Universum positionieren möchtest. Wähle zwischen verschiedenen Handlungssträngen, die dein Schicksal und das der Welt beeinflussen. In "V Rising" entscheidest du, ob du ein gnadenloser Tyrann oder ein weiser Herrscher wirst, der in den Schatten agiert und seine Feinde im Geheimen manipuliert. Das Schicksal der Nacht liegt in deinen Händen – welche Entscheidungen wirst du treffen?
Your ultimate vampire adventure awaits you on your V Rising game server.
"V Rising" bietet dir ein umfassendes und packendes Vampirerlebnis, das Fans des Genres und Neulinge gleichermaßen begeistern wird. Mit seiner tiefgründigen Spielmechanik, der offenen Welt zum Erkunden, actionreichen Kämpfen, strategischem Schlossmanagement und fesselnder Handlung ist dieses Spiel der perfekte Ort, um in die Rolle eines Vampirfürsten zu schlüpfen und deine Macht in der Welt der Dunkelheit auszubauen. In "V Rising" wirst du die ultimative Herausforderung finden und gleichzeitig eine unvergessliche Geschichte erleben, die dich immer wieder in ihren Bann ziehen wird. Mach dich bereit, die Nacht zu erobern und die Schatten zu deinem Verbündeten zu machen!