50% off in the 1st month
AUD
8.31
BGN
9.76
BRL
26.55
CAD
7.27
CHF
4.77
CNY
39.04
CZK
122.29
DKK
37.22
EUR
4.99
GBP
4.27
HKD
41.91
HRK
37.61
HUF
1,916.66
IDR
82,222.23
ILS
20.52
INR
443.98
ISK
717.06
JPY
784.23
KRW
7,115.44
MXN
93.91
MYR
25.01
NOK
57.01
NZD
9.03
PHP
303.58
PLN
23.17
RON
24.77
RUB
584.83
SEK
59.28
SGD
7.28
THB
189.86
TRY
143.81
USD
5.35
ZAR
101.14
date
45.52
/ month
AUD
18.47
BGN
21.69
BRL
59.00
CAD
16.15
CHF
10.60
CNY
86.76
CZK
271.79
DKK
82.71
EUR
11.09
GBP
9.50
HKD
93.15
HRK
83.58
HUF
4,259.67
IDR
182,734.37
ILS
45.60
INR
986.72
ISK
1,593.63
JPY
1,742.90
KRW
15,813.67
MXN
208.71
MYR
55.59
NOK
126.69
NZD
20.07
PHP
674.68
PLN
51.50
RON
55.05
RUB
1,299.76
SEK
131.74
SGD
16.18
THB
421.96
TRY
319.61
USD
11.89
ZAR
224.77
date
101.16
/ month
Individual configuration
Create your own configuration and flexibly adjust options
Secure payment




Our locations
In 17 locations worldwide, we offer unique accessibility with the lowest pings. Further locations are constantly being developed and guarantee breathtaking gaming fun with the lowest latency in every game.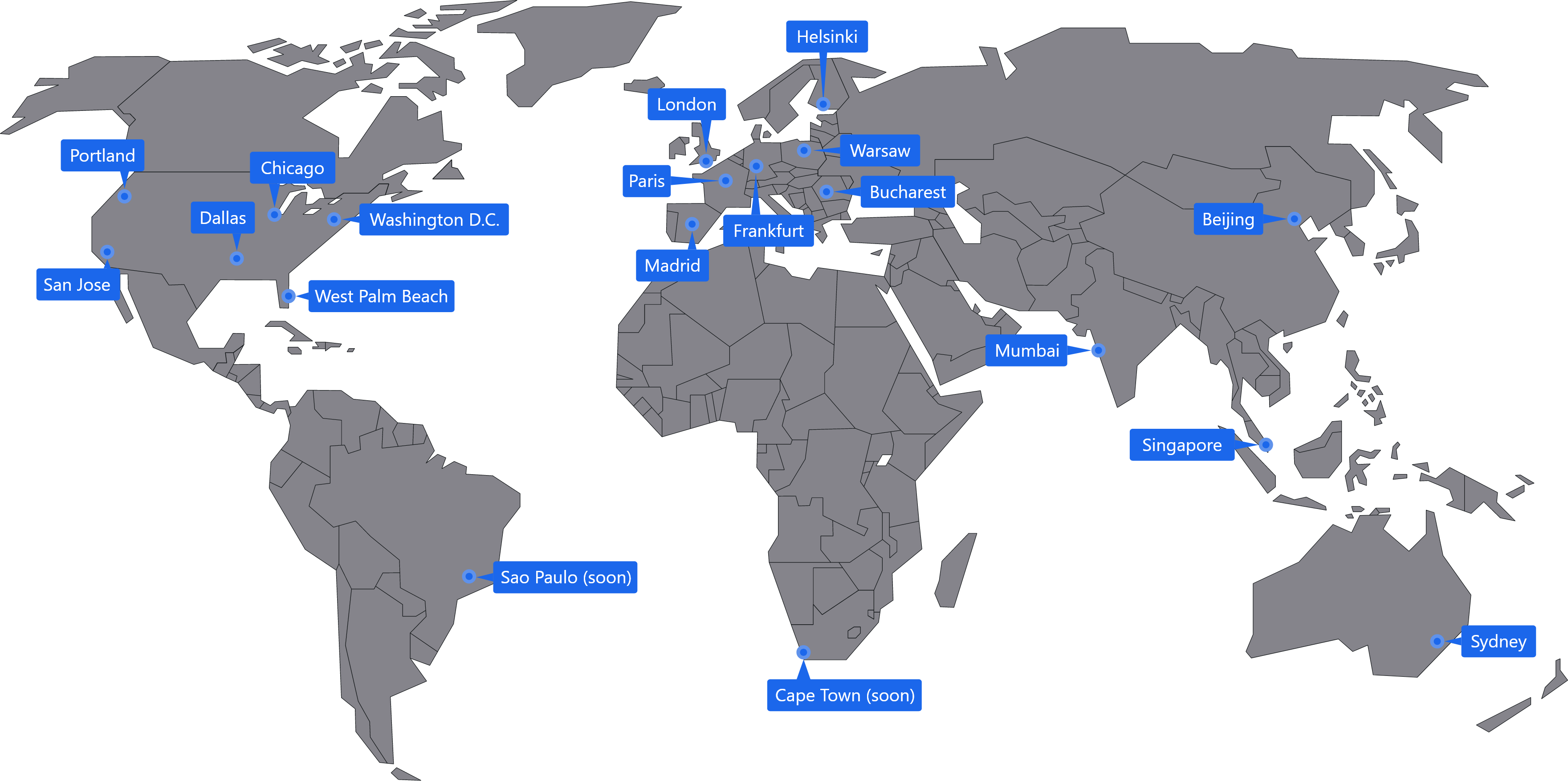 Frequently asked questions
Buying a subsistence server is often very expensive. In comparison, if you rent a subsistence server, you are not burdened by a one-off high payment. As a rule, you pay a low price once a month.
With us you also have the possibility to adjust the tariff for your server, the mods connected to it and accordingly the **price at any time. the price at any time. So you can try out different servers and modpacks and optionally remove them remove them again without spending a large sum of money.
With 4Netplayers, this is completely up to you. Regardless of whether you choose the Starter, Professional or Premium offer, you can determine the term of your contract yourself. Starting at one month up to a term of 12 months, it's up to you how long you want it to last. it is up to you how long you want to rent a server with us as your host. The longer the term of your contract is, the cheaper it will be, by the way, and so you will save 10 % of the price for a 12-month month you save 10 % of the price.
Absolutely. With 4Netplayers you don't have to worry about security and protection. For one thing, you have free to choose the duration of your contract and are not obliged to make endless monthly payments. On the other hand your server itself is safe, because we protect it with DDoS from bad traffic.
After logging in, click on "Gameserver" on the left and then on "Create configuration". Select your desired mods, enter a password - and your server is ready to go!
Subsistence - Master survival in the wilderness
Immerse yourself in the thrilling world of Subsistence, the ultimate survival game that puts your skills to the test. Playing as a lone survivor, you'll explore a stunning open world where you'll gather resources, hunt for food and build farms to survive. You'll soon realise that Mother Nature can be merciless, as dangerous predators and changing weather conditions are just some of the challenges you'll face. But be warned: the wilderness is not your only enemy. Other survivors are also fighting for scarce resources, and it's up to you whether you trade with them or fight for your territory. Forge alliances, build your stronghold and experience an intense, challenging and rewarding survival adventure in Subsistence.
Unfold your creative abilities: The Subsistence building system
Create your own home in the wilderness with Subsistence's intuitive building system. Use the resources you collect to design impressive structures that suit your play style. Whether you choose a well-fortified fortress to defend against predators and enemy players, or a cosy log cabin to develop your farming skills, the sky's the limit. In addition, you can expand and improve your survival arsenal with a variety of crafting options and upgrades. Craft weapons, tools and traps to protect yourself and your home. In Subsistence, how you shape your environment and ensure survival is entirely in your hands.
Experience dynamic events: The world of Subsistence is alive
Prepare to survive in a living and ever-changing world. Subsistence offers a dynamic environment where events and challenges come at you without you expecting them. Face seasonal weather changes that affect your survival strategy, or explore the world to accidentally stumble upon abandoned camps or secret bunkers that hold valuable treasures and resources. But be wary, because enemy survivors also lurk in the wilderness, looking for an opportunity to raid your supplies or take over your territory. Subsistence offers an immersive gaming experience where you must always be on your guard and your survival instincts are put to the test.
Research and develop skills: The Subsistence skill system
In Subsistence, your perseverance and adaptability are rewarded as you learn new skills and talents to help you survive in the wilderness. With each successful day in the harsh environment, you earn experience points that you can invest in a diverse skill and talent tree. Choose from a wide range of skills such as improved hunting, more efficient resource gathering or enhanced defensive measures to refine your survival strategy and suit your individual play style. Over time, you'll become an expert survivor, meeting the challenges of the wilderness with ease. In Subsistence, your fate is in your hands - master the art of survival and evolve into a true master of the wilderness.
Take on the ultimate survival challenge in Subsistence
Subsistence offers an intense and unforgettable survival adventure that tests your ingenuity, adaptability and determination. In an open, living and ever-changing world, you must gather resources, build a home, develop skills and stand your ground against predators, weather extremes and hostile survivors. With its challenging gameplay, versatile building system, exciting skill system and dynamic game world, Subsistence will captivate you and provide hours of gameplay. Take on the ultimate survival challenge and prove that you have what it takes to be a master of the wilderness.