50% off in the 1st month
AUD
8.28
BGN
9.76
BRL
27.54
CAD
7.52
CHF
4.89
CNY
38.19
CZK
117.07
DKK
37.18
EUR
4.99
GBP
4.39
HKD
43.37
HRK
37.61
HUF
1,865.96
IDR
81,155.36
ILS
20.09
INR
451.84
ISK
749.00
JPY
743.11
KRW
7,313.79
MXN
98.91
MYR
24.61
NOK
59.02
NZD
8.82
PHP
305.82
PLN
22.91
RON
24.60
RUB
584.83
SEK
56.59
SGD
7.33
THB
186.78
TRY
107.70
USD
5.53
ZAR
100.48
date
25.21
/ month


(taxes included)
AUD
18.39
BGN
21.69
BRL
61.21
CAD
16.71
CHF
10.87
CNY
84.88
CZK
260.17
DKK
82.62
EUR
11.09
GBP
9.76
HKD
96.38
HRK
83.58
HUF
4,146.99
IDR
180,363.32
ILS
44.66
INR
1,004.19
ISK
1,664.61
JPY
1,651.52
KRW
16,254.50
MXN
219.81
MYR
54.69
NOK
131.17
NZD
19.59
PHP
679.66
PLN
50.91
RON
54.67
RUB
1,299.76
SEK
125.77
SGD
16.30
THB
415.10
TRY
239.35
USD
12.28
ZAR
223.30
date
56.03
/ month


(taxes included)
Individual configuration
Create your own configuration and customize options flexibly
Secure payment




Our locations
In 17 locations worldwide, we offer unique accessibility with the lowest pings. Further locations are constantly being developed and guarantee breathtaking gaming fun with the lowest latency in every game.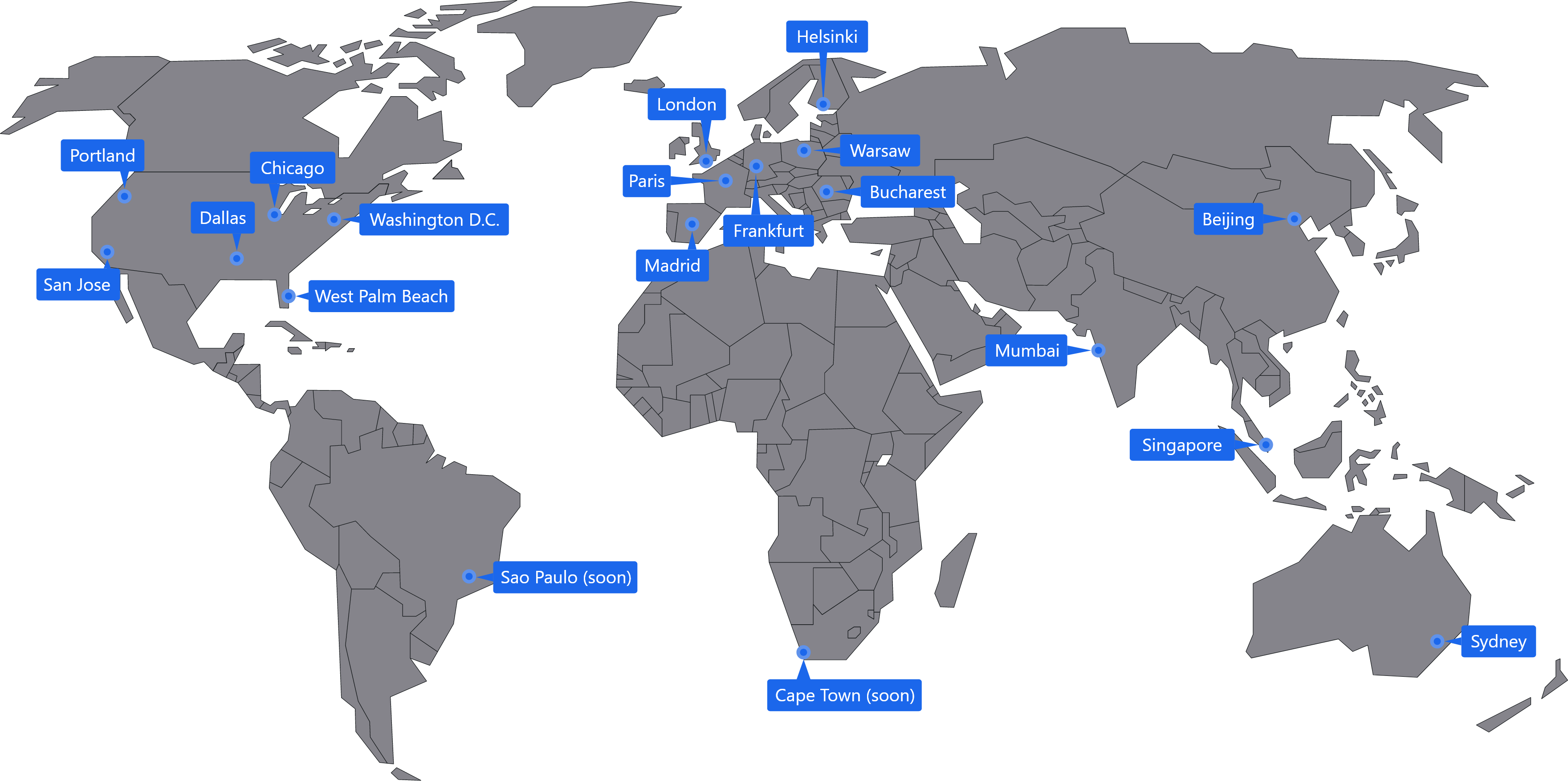 Frequently asked questions
No additional programmes are necessary for this. Mods can simply be installed automatically on your Avorion server by entering the WorkshopID.
Buying an Avorion server is often very expensive. In comparison, if you rent an **Avorion server, you are not burdened by a one-time high payment. As a rule, you pay a low price once a month.
With us, you also have the possibility to adjust the tariff for your server, the associated mods and accordingly the price at any time. the price at any time. So you can try out different servers and modpacks and optionally remove them remove them again without spending a large sum of money.
With 4Netplayers, this is completely up to you. Regardless of whether you choose the Starter, Professional or Premium offer, you can determine the term of your contract yourself. Starting at one month up to a term of 12 months, it's up to you how long you want it to last. it is up to you how long you want to rent a server with us as your host. The longer the term of your contract is, the cheaper it will be, by the way, and so you will save 10% of the price for a 12-month contract compared to one month, you save 10 % of the price.
Absolutely. With 4Netplayers you don't have to worry about security and protection. For one thing, you have free to choose the duration of your contract and are not obliged to make endless monthly payments. On the other hand your server itself is safe, because we protect it with DDoS from bad traffic.
After logging in, click on "Gameserver" on the left and then on "Create configuration". Select your desired mods, enter a password - and your server is ready to go!
Explore the Universe with Avorion: Create, Trade and Fight
Avorion is a sandbox space game that invites you to design and build your own spaceships. Start with small fighters and work your way up to huge fleets of battle cruisers and battleships. Use a variety of building blocks and materials to create your dream ship and optimise it according to your ideas. Give free rein to your creativity and create masterpieces of space technology.
Act and explore a living universe
Traverse the vast expanses of space to explore new galaxies and collect valuable resources. Trade and interact with different factions to expand your empire and build diplomatic relations. Complete different missions and discover secrets and treasures in hidden corners of the universe. Each journey will be unique thanks to the procedurally generated galaxies that will always offer you new challenges.
Fight against powerful enemies and protect your empire
Equip your fleet with advanced weapons and technology to take on hostile factions, pirates and other space dangers. Experience action-packed space battles where your strategic decisions and tactical skills make the difference between victory and defeat. Team up with or compete against friends to expand and defend your power in the universe of Avorion.
Individual customisation for endless fun
Avorion offers extensive modding support that allows you to customise your gaming experience. You can use existing mods from the constantly growing community or create your own to add new functions, content or mechanics. The possibilities are almost endless: change the economic system, add new weapons or spaceship designs or create completely new game modes. There are no limits to your imagination!
Explore the depths of space together on your Avorion server
Share your galactic adventures with friends in Avorion's multiplayer mode. Join forces to master difficult challenges, secure trade routes or build imposing space stations. Together you can uncover the secrets of the universe and defend yourselves against enemy attacks. Whether you work together as a team or compete against each other in friendly matches - the fun is guaranteed!
Reveal the secret of Avorion
In the midst of your adventures, you will encounter a deep and compelling backstory. A mysterious catastrophe has split the galaxy in two, and you set out to find answers and a possible solution. Along the way, you will meet different characters who will give you clues and tasks to solve the riddle of Avorion. Immerse yourself in an epic story that will take you to the centre of the universe - and maybe even beyond.
Avorion - The ultimate sandbox space travel experience
Avorion offers you a unique and diverse gaming experience as you build and expand your own spaceship empire in a procedurally generated galaxy. With countless ship customisation options, a dynamic economy, challenging combat and a compelling backstory, the game offers hours of fun. Modding support and multiplayer mode expand your options and ensure varied and exciting adventures. Avorion is the ultimate sandbox space travel experience for everyone who wants to explore the unknown and write their own story in space.