4Netplayers Teamspeak 3 Badge
Oggi abbiamo una sorpresa per tutti i clienti Teamspeak 3 di 4Netplayers. Come primo provider di ATHP, ogni proprietario riceve un badge personale. Questo segno di riconoscimento sarà visibile su tutti i server nel mondo, indipendentemente dalla posizione. Tutti quelli che sono già clienti possono prendere un codice seguendo l'URL una volta sola. Anche per ogni nuovo ordine c'è un codice. Solo fino a esaurimento scorte.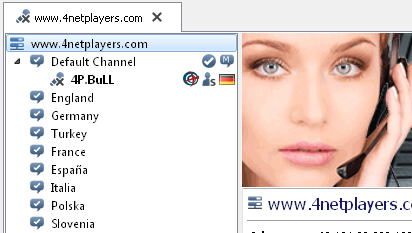 Un badge Teamspeak 3 di 4Netplayers è un'icona globale per Teamspeak 3. Non appena raggiunge un qualsiasi server Teamspeak 3, quest'icona viene visualizzata accanto al Suo nome.
Per l'utilizzo dei badge Teamspeak 3 di 4Netplayers, è necessario disporre di un account su
www.myteamspeak.com
. È sufficiente creare un account e andare su "Dashboard". Nel menu troverà la voce "Redeem Badges". Inserisca il codice che ha ricevuto e otterrà, così, il Suo badge. Poi, vada nella Sua Teamspeak 3 Client su Extra -> Opzioni ed effettui l'accesso a myTeamSpeak con le Sue credenziali. Successivamente, tale icona verrà visualizzata su ciascun server accanto al Suo nome. Nel caso in cui stesse già utilizzando myTeamSpeak, è possibile riscattare il codice anche direttamente nel Suo Teamspeak 3 Client su myTeamSpeak.
Order game servers for Farming Simulator 15
As of today, you can pre-order 4Netplayers servers for the latest version of the popular game Farming Simulator. In the latest version the multiplayer mode has been improved, new content was added, a completely new nordic game world was added and of course Farming Simulator 15 also offers the usual comprehensive vehicle fleet.
4Netplayers offers servers in our usual quality at the release of the game on the 30th october 2014. The servers can be pre-ordered immediately so there is no delay and you may hop on your tractor as soon as the game is launched.
Show what you're made of and harvest crop and grow livestock! All of this is always accessible with a LS 15 game server of 4Netplayers. Regular customers with a subscription for LS13 will be able to switch to LS15. You just have to create a new server configuration for LS15 and there you go!
Battlefield 4 -€" 4Netplayers e EA proseguono la loro collaborazione
Già in passato, 4Netplayers e EA hanno collaborato strettamente e con successo nel settore dell'hosting di server. Questa collaborazione proseguirà con il quarto capitolo della serie Battlefield. Già per la fase beta, che ha avuto inizio il 1° ottobre 2013, 4Netplayers mette a disposizione un'intera gamma di server. In questo modo dovrebbe essere disponibile uno spazio sufficiente durante la fase beta, in modo che ciascun partecipante possa testare il gioco in ogni minimo dettaglio già prima della sua pubblicazione.

A breve 4Netplayers fornirà anche la possibilità di prenotare dei server personali di Battlefield 4 ancora prima del suo lancio. La data precisa, le condizioni e i prezzi verranno resi noti e sarà disponibile un'offerta adatta per chiunque sia interessato ad ottenere un server personale. Ci vediamo sul campo di battaglia!