4Netplayers Teamspeak 3 Badge
For all Teamspeak 3 customers of 4Netplayers we have a special feature today. As the first ATHP provider every owner gets his own badge. This badge can be seen on any server anywhere in the world, no matter where you connect to. Every existing customer can pick up a code once under the URL. There is also a code for each new order. Only while stocks last!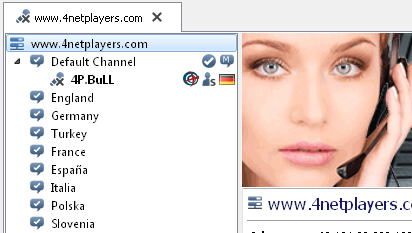 A 4Netplayers Teamspeak 3 badge is a global icon for Teamspeak 3. Once you're on any Teamspeak 3 server, this icon will appear next to your name.
To use the 4Netplayers Teamspeak 3 badges, you will need an account on https://www.myteamspeak.com. Simply create an account and then go to the "Dashboard". There you will find the menu item "Redeem Badges". Enter the code you received from us there. This will give you your badge. Then go to Extras -> Options in your Teamspeak 3 Client and log into myTeamSpeak with your login information. Thereafter, this icon will be displayed on each server next to your name. If you already use myTeamSpeak, you can redeem the code directly in your Teamspeak 3 Client under myTeamSpeak.
Order game servers for Farming Simulator 15
As of today, you can pre-order 4Netplayers servers for the latest version of the popular game Farming Simulator. In the latest version the multiplayer mode has been improved, new content was added, a completely new nordic game world was added and of course Farming Simulator 15 also offers the usual comprehensive vehicle fleet.
4Netplayers offers servers in our usual quality at the release of the game on the 30th october 2014. The servers can be pre-ordered immediately so there is no delay and you may hop on your tractor as soon as the game is launched.
Show what you're made of and harvest crop and grow livestock! All of this is always accessible with a LS 15 game server of 4Netplayers. Regular customers with a subscription for LS13 will be able to switch to LS15. You just have to create a new server configuration for LS15 and there you go!
Battlefield 4 - 4Netplayers and EA continue partnership
4Netplayers and EA have already worked in close and successful co-operation on server hosting in the past. That is now set to continue with the fourth part of the Battlefield series. Already for the beta phase starting on 1st October 2013, 4Netplayers will be providing a whole range of servers. This should ensure that enough space is available during the beta phase for every participant to put the game through its paces.

4Netplayers will also soon be offering players the opportunity to pre-order their own servers in time for the launch of Battlefield 4. We will then also announce the exact date, the conditions and prices and there will be a suitable offer for every player interested in having their own server. See you on the battlefield!